1967 Camaro Restoration Project
%%%% Page One %%%%

A Little History Here
This is the latest project that has landed in my garage. It is a 1967 Chevy Camaro Total Rebuild and Restoration. The car belongs to a good family friend who drove the car in high school and about 6 years after. At some point about that time it started running bad and life started catching up with her ( marriage, starting a family, being pregnant, etc) so the car was taken off the road and has been in storage for the last 26 or so years. As we all know time can take a toll on a car stored and it was NOT nice to this one at all. After giving it a good overall evaluation it was determined by more people then myself, including my body and paint buddy of 20 plus years, that because of the advanced state of decay and the cost effectiveness, it was not worth trying to bring this car back to life. Poor Denise was devastated. I remember the night before I went over there to haul it away to the scrap yard I talked with her on the phone. I asked her if she was OK with this and she said no as she cried at the loss of her high school car to the evils of of time and rust. About this time her father Joe stepped in the picture. Not liking to see his daughter so distraught, he told me he wanted to redo the car no matter what it cost him. After a long meeting it was decided we would rebuild the car but use a new sheet metal Dynacorn body that can be bought through the after market. At that point I agreed to take on the project making it well known it would be a long term project that would probably take the better part of three to five years or more.
So,, now that you have the background for these pages, check back every now and then for progress updates and wish me luck!!!!!!
Oh, BTW,, if you have any old Camaro parts or extra Bush Lite feel free to stop by and share.!!
The first 2 pictures are just a representation of what the car looked like that Denise found online. This will be the model of what I am going to want the finished project to look like.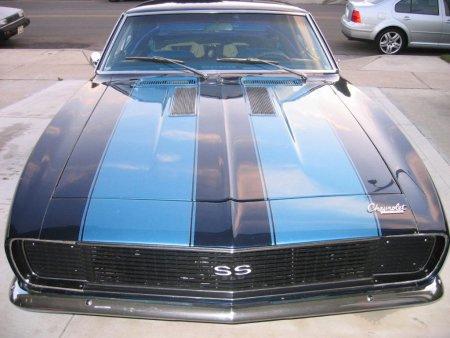 Just by luck, one morning on E-Bay I found a auction for a Dynacorn body car that a guy in Atlanta Georgia was getting rid of. It turns out he was building it for a customer who bailed out on the job so he was selling it just to get out from under it. As it's going to turn out,, that guys bad luck was our good luck and I bought the car after it being up on auction for only 3 hours. The car came with a numbers matching motor, original trans, rear, all the front sheet metal we needed and a whole bunch of extra parts. This find put us way ahead of the game BIGTIME. Road trip time.!!

Pics of the car in Atlanta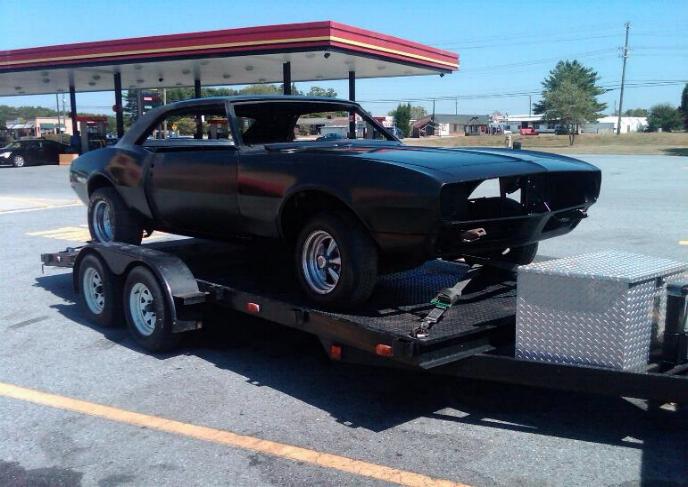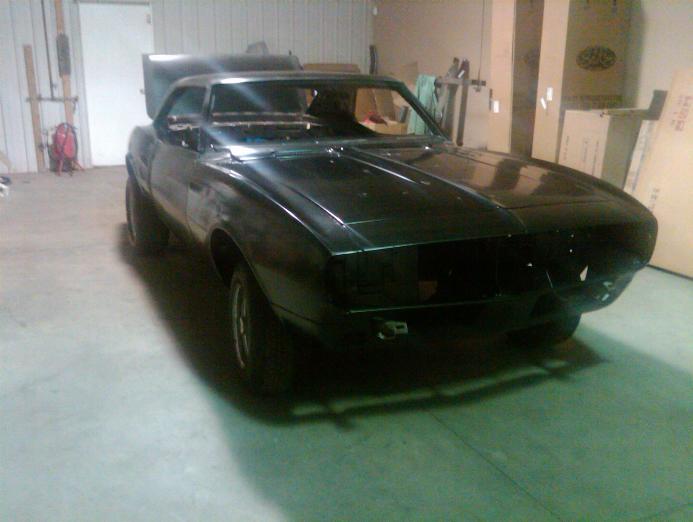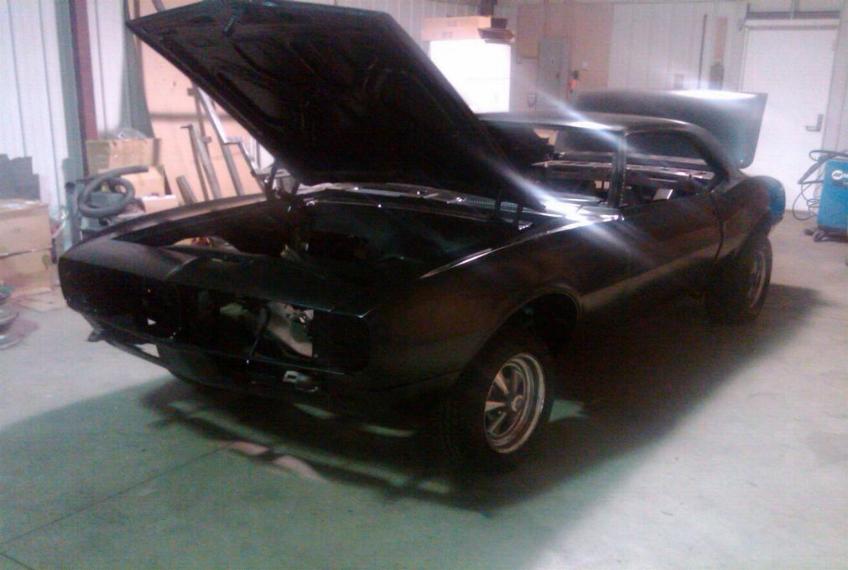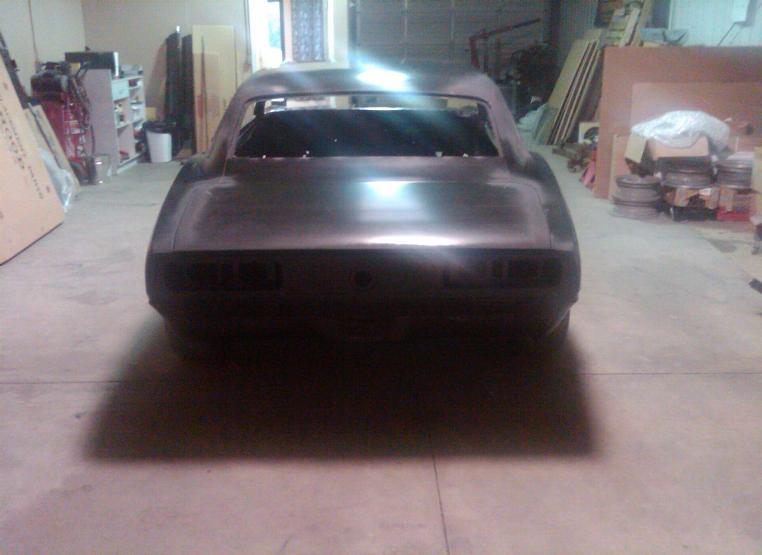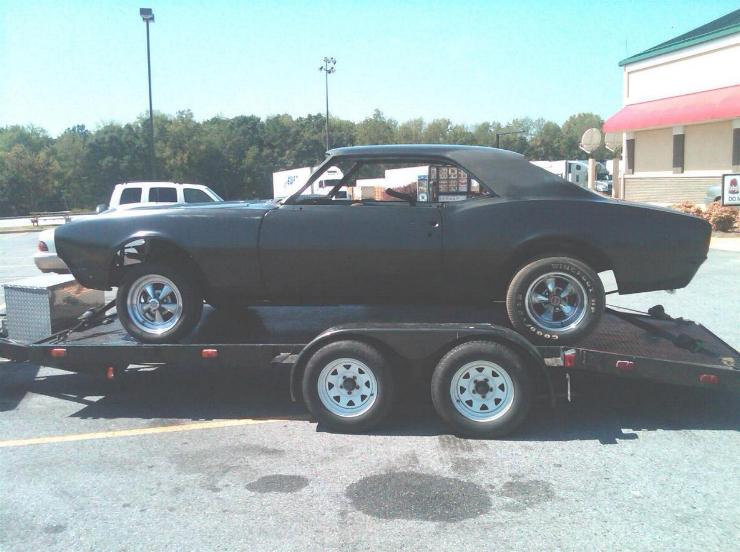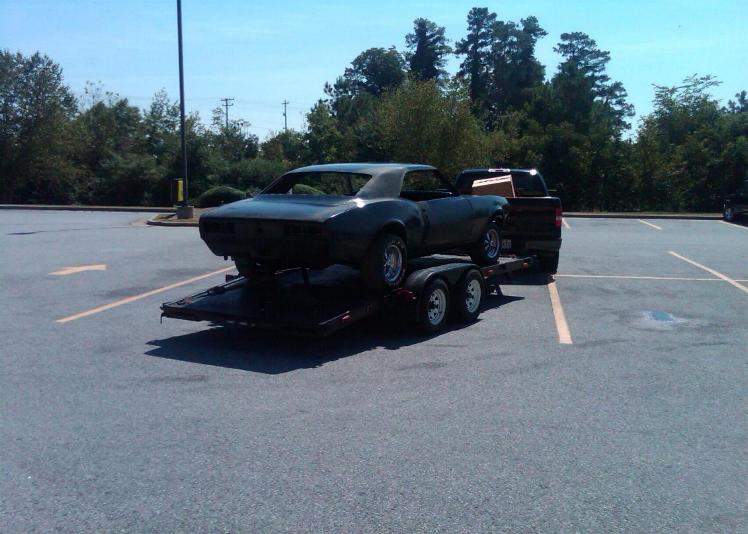 Joe decided not to tell his daughter about the car we found but rather surprises her with it.
Here is the unsuspecting victim over for what she thought was just another evening in the RandysRack garage.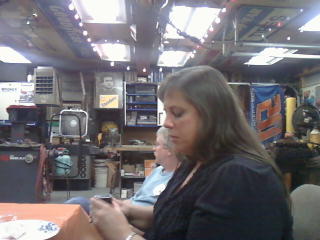 The surprise went perfect. It turned into kind of a reunion party.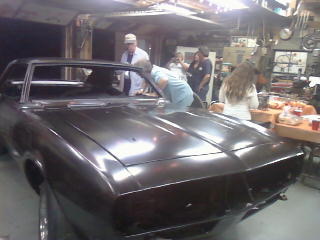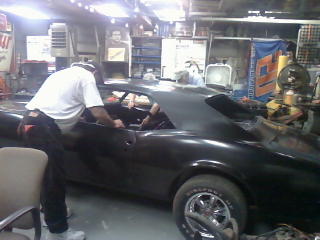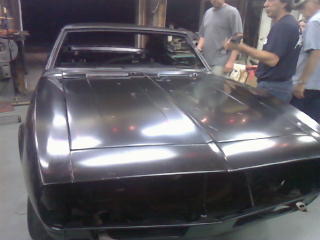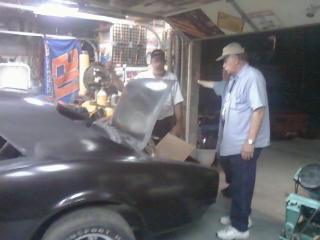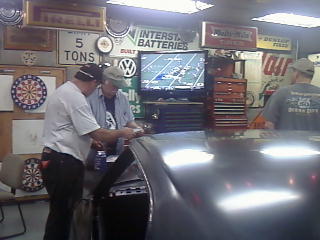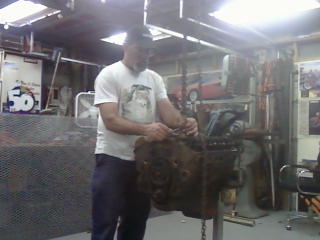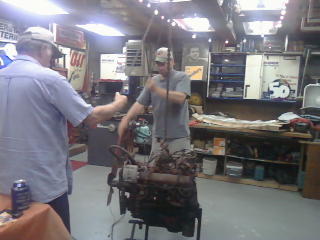 The proud new owner. :)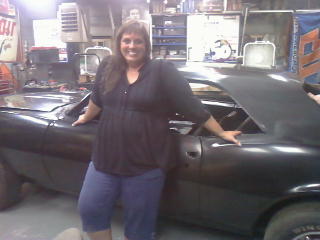 My shop bear drives everything that comes thru my garage.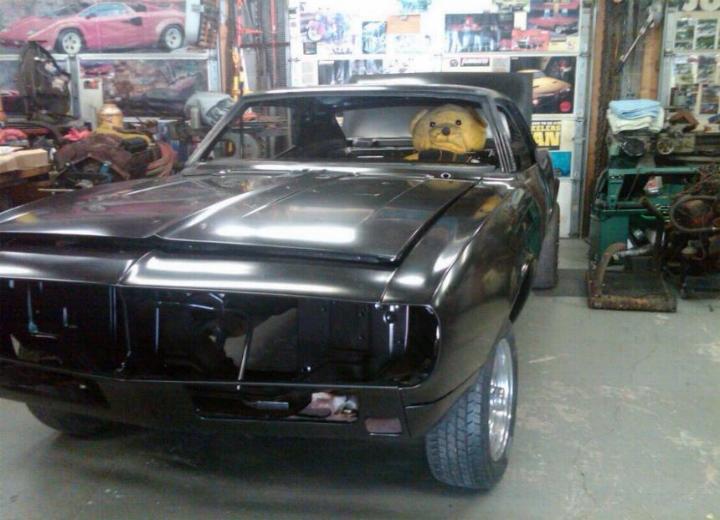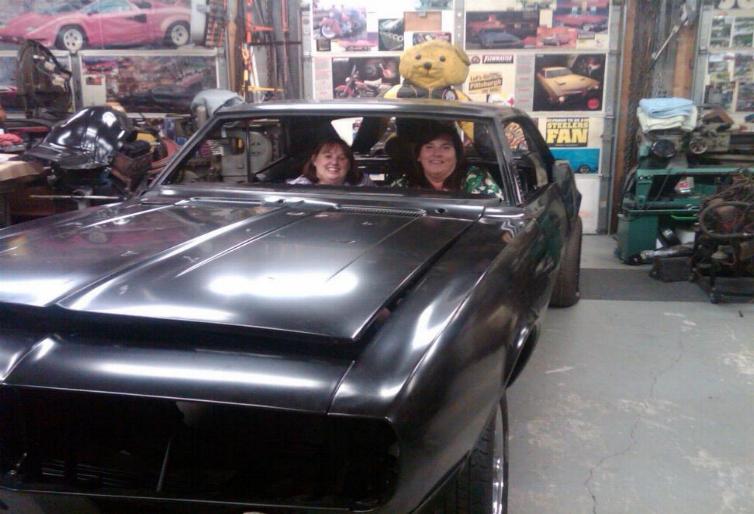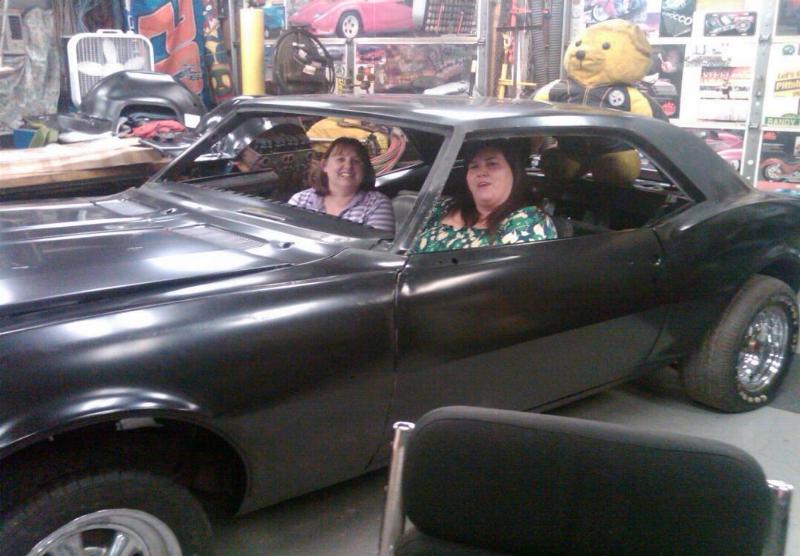 Now it's time to start tearing things apart so it can be refinished correctly. First, all the front end sheet metal needs to come off.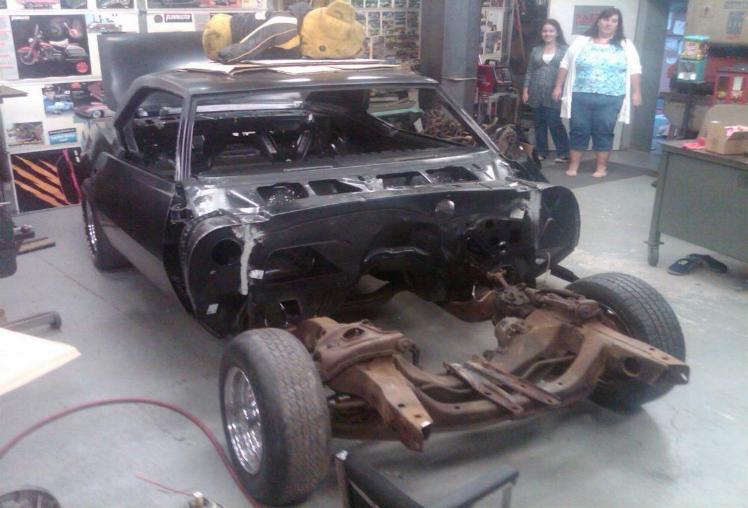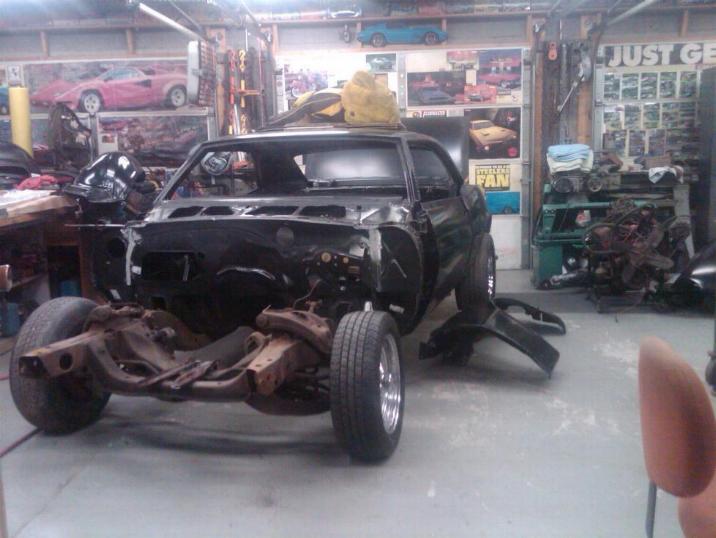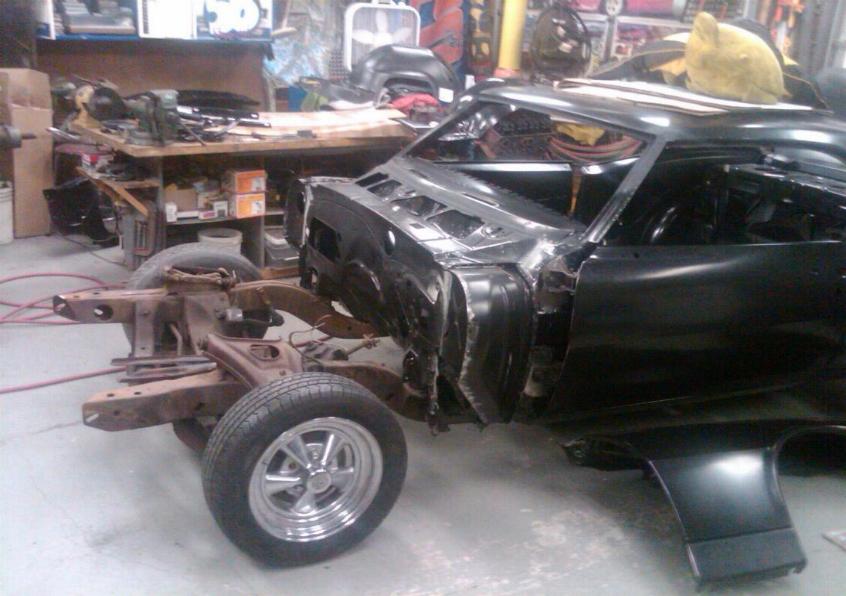 Next, it had to go up on jack stands as high as I could get it.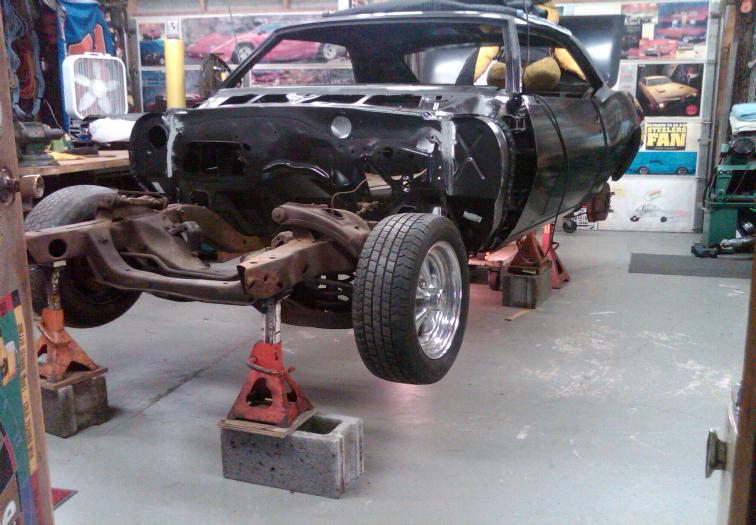 Now, I have to get the rear leaf springs out to get it ready to attach to the rotisserie .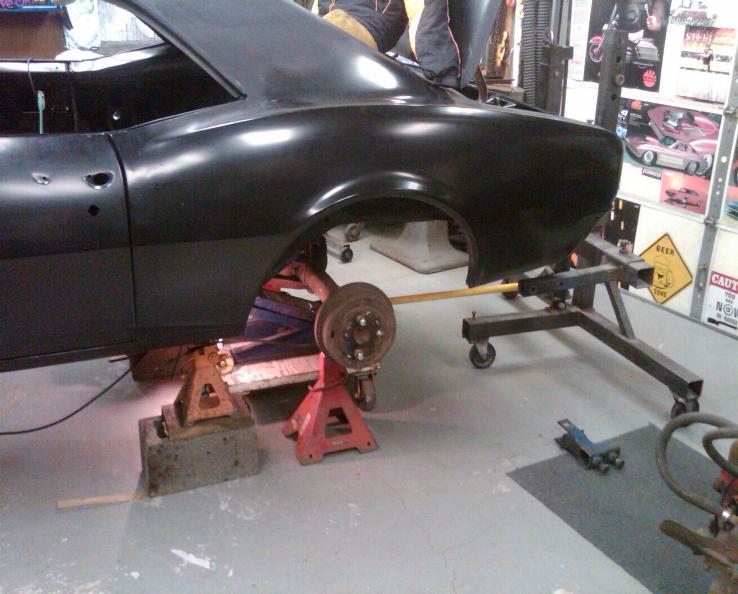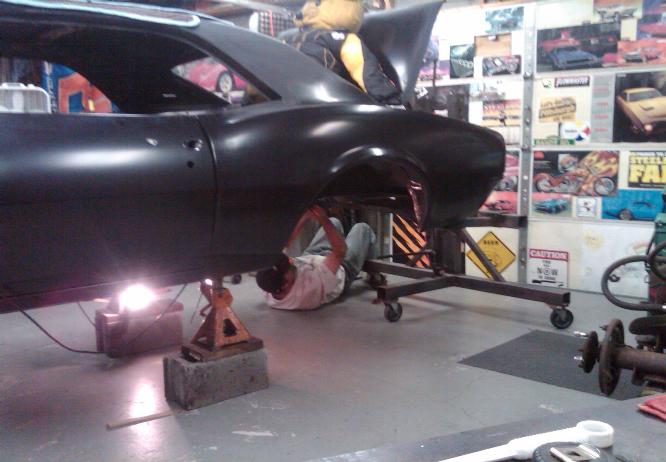 Springs are out, rear axle is out, and the rear half of the rotisserie is attached.